Congratulations to Dona Sirimanne, winner of the 2021 Scholarship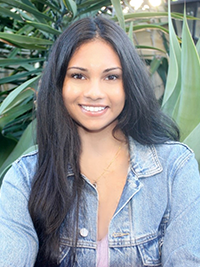 University of Sydney student Dona Sirimanne has been named the winner of the 2021 Brian White Scholarship, announced by Commercial Radio Australia.
In her final year of a Bachelors of Secondary Education/English Literature, the student from Dundas, New South Wales, was selected as the recipient of the award from among 10 finalists from five universities, following a workshop with leading radio news directors.
CRA chief executive officer Joan Warner congratulated Dona on winning the scholarship, which will see her undertake an eight-week paid placement, working for two weeks each at Nine Radio, Southern Cross Austereo, ARN and NOVA Entertainment in the Sydney newsrooms.
"It has been another challenging year and we are delighted that the Brian White scholarship finals could continue in a virtual capacity. Current global and domestic events make it imperative that Australia's young top talent have every opportunity to build their careers in the live broadcast news industry," she said.
The workshop was conducted online for the second year due to COVID-19 lockdown restrictions. It was led by commercial radio news leaders, Deborah Clay (ARN), Michelle Stephenson (NOVA Entertainment), Natalie Peters (Nine Radio) and Natasha Jobson (SCA). The finalists took part in a series of newsroom exercises and were required to record a live cross about a current news event. They also had the opportunity to receive individual feedback and advice.
Dona said she was honoured to have been selected for the scholarship. "I've always loved the production and broadcast aspects of news radio and can't wait to learn as much as I can during the scholarship."
The Brian White Scholarship launched in 2017 and is held annually. The program aims to encourage and foster the brightest, aspiring young minds in commercial radio news. It will help the recipient transition out of study and into the commercial radio industry.
The competition is open to recent graduates or students who are in their final year of study in an applicable course such as Communications, Media, Journalism and Radio. Entrants should have graduated no more than two years prior to the opening date.
The judges will be looking for a journalist who has a passion for radio news and is ready to take up an exciting opportunity to see how the major metropolitan newsrooms operate at Nine Radio, Australian Radio Network (ARN), Nova Entertainment and Southern Cross Austereo (SCA). The successful applicant will be immersed in the news cycle and will relish the chance to sit in the same room as senior journalists at commercial radio stations to experience how the news is sourced and compiled.